A CUSTOM GARAGE DONE BY LAWRENCE CONSTRUCTION. ADD A LITTLE FUN TO YOUR PERSONAL SPACES!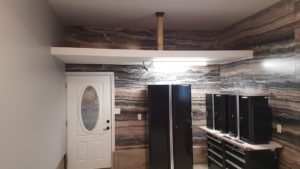 This custom garage created by Lawrence Construction located in Weyburn, Saskatchewan is something to show off to the entire block. Lawrence Construction helps families all over southern Saskatchewan including Regina, Estevan, Carlyle and every community in between. we do consultations with both residential and commercial clients for inspections, abatements, remediation, construction,renovation, training and more.
This one car garage that's attached to the house was always very plain, people enter the house from the back and saw a very average disgusting garage. The owner wanted something fun so we updated with a unique and different wallboard to make this a neat customized garage. We added some trims and built some storage to make it functional. The whole space ended up to be a warm unique and interesting environment.
Ask us a question! We'd love to help.